Schedule a Training Session with our Team!
Delivering Through Digital: Plan, Grow, Analyze
Schedule a Training HERE
We are pleased to announce the Granular Insights team is now offering individual training sessions. No matter your experience level, let our team of professionals with over 100 combined years experience in the Digital Ag industry train and guide you on the best practices for using Granular Insights.
These free 30 minute training sessions can be booked anytime between 8am - 11am and 1pm - 3pm CST, Monday through Friday.
Select from 3 different areas of training: Plan, Grow, Analyze
Or if you have "Other" areas of interest, let us know!
Plan:
Field Boundaries
Product Proposal & Field Plans
Decision Zone Creation, Yield Goals, Variable Rate Rx
Reports
Grow:
Satellite Imagery
Field Notes
As-Planted Data
Analyze:
Harvest Data
Analysis and Insights
End of Season Reports
Other - Tell us what you would like to learn more about!
Scheduling is simple and takes less than 5 minutes to complete! Click the link HERE and fill out the form. Please provide as much information as possible, this helps us tailor the training to meet your needs.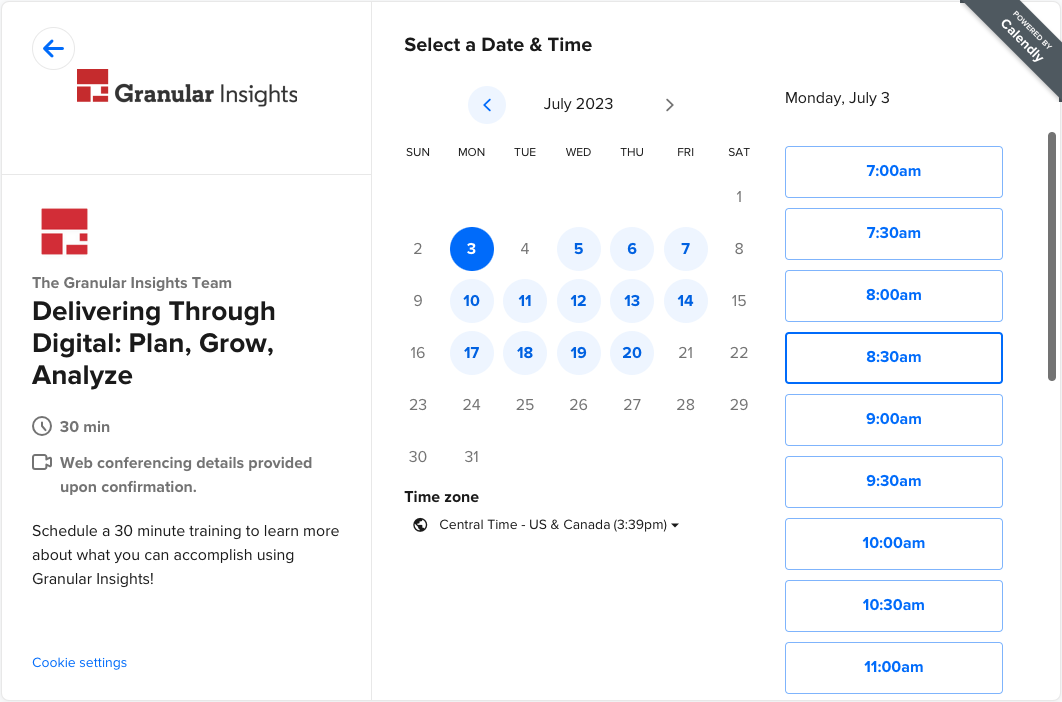 Was this article helpful? 1 out of 1 found this helpful