Getting Started: Connect to John Deere Operations Center
Overview
Granular Insights helps you organize your farm's data in one place. Connect your John Deere Operations Center account to import field operations data into Granular Insights for deeper analysis.
Requirements
An active internet connection

An active Granular Insights account

Currently a "Staff" Member with Organization Management Access Level "1" and Location Level "2" or higher.

Ensure "Grant additional Permissions" box is check for "Share Organization Data with Connected Software Companies"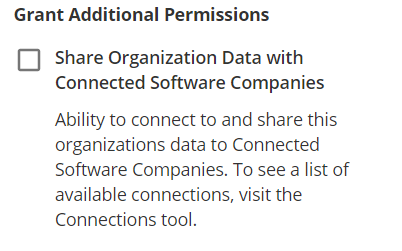 Web - Process
Log into your Granular Insights account on the web



Select "

Manage

Data"






Select "Add Connection"




Select "John Deere Operations Center"




Select "Log in to John Deere" as shown below




Sign into the Operations Center Organization you are connecting to Granular Insights and select "Allow Access"




Confirm which organization(s) will have access to Granular Insights and select "

Save"

.

When complete, you will be directed back to Granular Insights to finish the connection.






Select the organization to be linked. Select "

Next"






Review the connection details to ensure they are correct.

Once confirmed, select "

Finish"





Please allow up to 24 hours for your John Deere data to appear in your Granular Insights Operation.
Additional Information:
We recommend that "Equipment" Access Level be set to "1" with the Setup File Creator, Products, and Wireless Data Transfer box checked. This will allow access to the files page and permit VRS (Variable Rate Seeding) to be sent to your Operations Center.

Related Articles:
Getting Started: Manage Data "What's New" User Guide
Getting Started: Machine Data Manual Upload Supported Data/Monitors
Was this article helpful? 0 out of 0 found this helpful